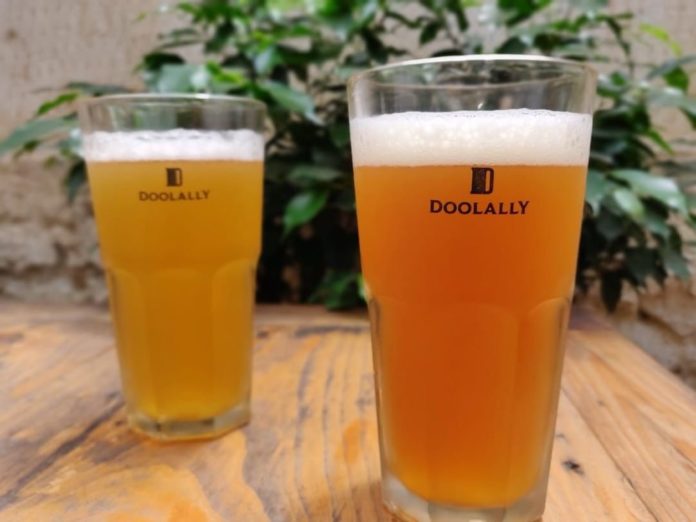 We'll get to the beer later, but everything about Doolally seems too good to be true – the ambience telling you that it's going to be a good time, the ample amount of board games, their weekly quiz. I did save the best for the last – the number of dogs that you get to see is simply pawfect. (see what I did there?)
But yes, it's the beer that's makes us come back to this place again and again. To be frank, we just can't get enough of how good their craft beer truly is.
Here are three popular beers at Doolally that we think you should definitely take a sip of:
1. Apple Cider
Yes, yes we know, it's a cider. Technically, that means it's not beer. But if you're talking popular beers at Doolally, the Apple Cider sure makes the list.
A reason why it's so popular is despite its 5% alcohol content, it's extremely sweet and has the perfect balance of a strong flavour to go with it. You get the smell of fresh apples the moment the drink comes in front of you. Perfect for those who seek a sip on the sweeter side and if you're a first timer at Doolally, we couldn't recommend a better drink to open your account. Time to chug!!!
2. Oatmeal Stout
When it comes to appearance, it sure is easy for the Oatmeal Stout to stand out amongst the rest. Why? Cause it's the darkest beer you'll ever get at Doolally. It may look bitter and one that you'd pass on, but on trying it you'll find that it isn't too bad after all. Also, has 5% alcoholic content.
Beers like this tell you that just like people, it's the inside rather than the outside (which isn't so bad for the Oatmeal Stout) that matters the most. No wonder it's so popular. So sip away!!!

3. Rauch Bier
Ham lovers are absolutely in love with this beer due to its smoked baked like aroma. This amber brown beer with an off-white head is absolutely high on flavour with the smell of smoked malt, toffee, bread and caramel. If you love bacon, then you can't ask for anything better than a Rauch Bier. Trust us on this, beer and pork together is like unlocking the mysteries of the universe. If you love beer for the taste, go for it!!!
So here you have it, we've given you what's sweet, what's bitter and one that's full of flavour. You name it, Doolally's got it all when it comes to beer.