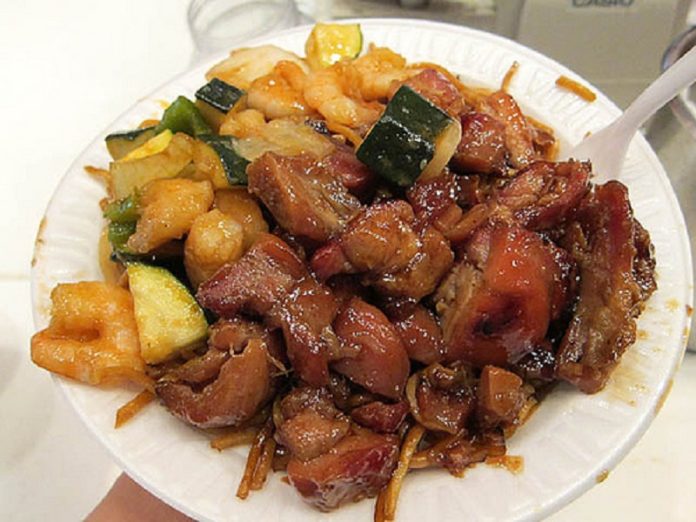 Why should you go through the struggle of drinking your poison separately while eating your food, especially when you can have the best of both worlds in one dish? Alcohol's unique characteristics make wine, beer, champagne, and most liquors in general, more than just a drink to complement your meal, and combining them has to be some sort of sorcery. Here are some boozy dishes that possess powers to make you high on food:
Old Monk Pizza: Pizza can be characterized as 'soul food' and alcohol is our poison, isn't it? Pizza by The Bay is that angel which brings a gift to our taste buds in the form of their fiery Old Monk Pizza. In no time, this beauty has become the talk of the town and is nothing short of WOW. A flaming pizza with cheese oozing out, this gem is literally garnished with hot alcohol poured over it.
Where? Pizza by the Bay, Churchgate; Price: INR 1900 + Taxes
Bourbon Chicken: The name itself is enough to entice, but wait till we spill some more secrets about this delectable dish. The oh-so-good dish is served with a sweet and savory sauce poured over some tender cooked chicken. The sauce is made with some good ol' American Bourbon for that smooth velvety texture. The pungent taste of the bourbon is there to stay at the back of your throat after satisfying your taste buds. Go get your hands on it.
Where? : My Regular Place (MRP) Dadar; Price: INR 310 + Taxes
Shepherd's Pie: Who would have ever thought that the classic Shepherd's Pie could have a boozy twist to it? Well, JW Marriot has outdone itself in bringing exotic recipes to your table with this new addition to their daily buffet. Carrot, tomato paste, potatoes, heavy cream mixed with godsend lamb and red wine makes this boozy dish what it is! This baby is enough to calm your hunger pangs, while also quenching your thirst for alcohol.
Where? JW Marriott Hotel, Juhu; Price: INR 1600 + Taxes 
Sabudana Risotto Infused With White Wine: You will surely think of ditching your regular Sabudana (sago seeds) preparation for a delicious Sabudana Risotto at Bombay Vintage. The restaurant makes this beauty of a dish with some white wine and while it literally won't get you drunk, the flavor only gets better. Every mouthful is colorful, tasty and something to look out for if white wine is your go-to drink. The Risotto has bell peppers, green and yellow zucchini along with some cream, butter and cheese, topped with roasted peanuts. The nutty aftertaste makes this a winner all the way!
Where? Bombay Vintage, Colaba;  Price: INR 395 + Taxes
Green Apple with Beer Ricotta Melba: Who on the face of this earth would have ever thought that healthy cooking is possible with alcohol? The Sassy Spoon serves a soup of green apples, smoked scarmoza (Italian cheese) and fennel, with a delicious beer ricotta melba (originally for desserts). Keeping the beer taste subtle, the creamy sweet soup with beer is a good variation to all the classic soups in the city. On a side note, this soup is definitely a good dish for all the fitness freaks, who keep a tab on their calorie intake.
Where? The Sassy Spoon; Price: INR 225 + Taxes
Header Image: Flickr