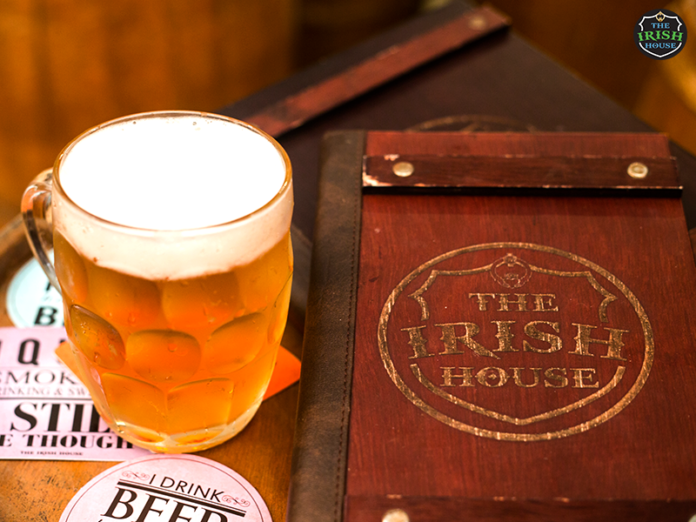 The Irish House in Bandra has had a great Happy Hour deal since the last five years, that's on from 5 – 8 PM daily. It's simple. They basically have a one-on-one on everything. Everything! Which means that you really shouldn't be going anywhere else during these three precious hours. Whenever I see a Happy Hours deal, I think about five things:
Alcohol Quality: After having consumed massive amounts of beer, gin, rum and wine over the last 17 years, I can safely say that YES – the quality here is on-point. We've had their shots, their beers and their wines and my god, is it legit. The place quickly fills up after 7 PM when the after-office crowd blends in with the business guys and young teens.
Price: When we went to the Bandra outpost for the first time, we thought they'll jack up the prices and break our hearts. But no. We had two liters of Kingfisher for INR 450. That's INR 100 for a glass of beer. And we had Kamikaze shots for INR 150 each, and Jagers for INR 250. You really can't beat that price, given the quality of drinks they offer as part of the deal.
Food: Their Sweet Potato Fries are insane, and that's where they get their recovery from. We couldn't help it but order some food from there because we were so delighted at their deal. We had their Veg Cheese and Chicken Patty burgers (came with fries) and their Caesar Salads. Just a brilliant combo of food and drinks.
Ambiance: The Bandra outlet has got an amazing vibe. Really chilled out crowd, great old school rock music and it looks like a sports bar on steroids. You can bring the fellas here, you can get the ladies, and they've got giant screens that projects live games. They've got a dart board, wooden interiors and a really interesting stairway to the loo. They're really an experiential offering which quickly becomes a regular spot for Bandraiites.
Staff: Unlike most places where the staff looks down upon you for coming to a Happy Hour deal, the staff here is great during these hours. They are really attentive and friendly. There's a dude with a goatee who's really helpful, and he'll make sure your party is fitted well.
Apart from these parameters, I think the location counts for a lot more than anything. Much like the other places at Pali Hill, there is a lot to do after you get drinks at Irish. You can walk on over to Carter Road to really enjoy the company of someone, and when you're there, you can treat yourself to more great food and coffee. Cannot ask for a better location.
Where? 7, A-Wing, Gasper Enclave, Palinaka, Pali Hill, Bandra West
Header image: Zomato