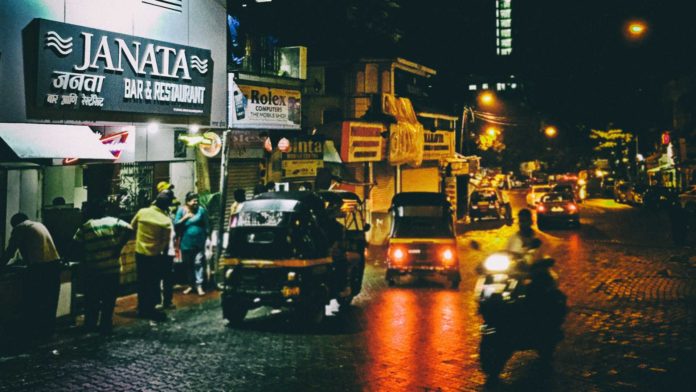 The dive king of Bandra and a favourite amongst Mumbaikars too. It's the suburbs' answer to Gokul in Colaba and Sunlight in Dhobi Talao. Yes, we're talking about Bandra's Janta Bar and Restaurant. What looks like a small bar from the outside at Pali Hill has given alcohol lovers countless stories and drunk tales aplenty over the years. While we can't get enough of the reasonable booze at this watering hole, a special mention goes to the 'chakna' that makes for a memorable munch.
So without further ado, here are five food items to go along with your alcohol at Janta:
1. Masala Papad
You really can't ask for more with this crunchy and tasty appetizer. Does anyone refuse Masala Papad? Crispy papad topped with the perfect balance of onions, tomatoes and chilly. Don't even get us started on the touch of lime, that gives it a sour taste. This one's absolute heaven!
An ideal companion to go with your drinks and the best part is, you won't even feel heavy. That only means you'll end up drinking more. Talk about a win-win situation.
2. Chaki And Schezwan Sauce
Drinkers around the country are in love with this spiral sensation. We can only marvel at how simple and yet so tasty, this savory snack made with rice flour is. You'll have no complaints with chakli; you just can't.
But the pressing question that every chakli fan spends hours contemplating is: Is Chakli better with Schezwan Sauce or Green Chutney?
3. Salted Peanuts
Don't be surprised to see this figure on our list. There's a reason why these small wonders are complimentary at some bars. We wish this was the case at Janta too, but that shouldn't stop you from ordering this salty snack to go down with your booze.
We'll let you in on a secret; salt helps reduce the bitterness and makes the drink, especially beer, a lot smooth. Easier drinking leads to faster consumption, and faster consumption leads to more beer purchases, which is exactly what those bar owners want.
4. Chilli Chicken/Paneer Chilly

Chinese food and Alcohol is a match made in heaven. Be it paneer or chicken, foodies flock to Janta to try out the Chilli Chicken and the Paneer Chilli. After all, they're the two most popular Chinese recipes in town. So you're sorted, in both vegetarian as well as non-vegetarian departments. If you want something that's just the right amount to go with your drink, you know what to order now.
5. Chicken Lollipop
Looking for a chicken appetizer that's spicy and full of flavor? All you need is a chicken lollipop. Filled with different spices that blend together, it gives a lip-smacking start to your drinking session at Janta. Don't we just love dunking our favourite appetizer into the Szechwan sauce that comes along with it? We sure do.
Well, all this food has sure got our mouths watering. We're heading to our favourite watering hole in Bandra. It's time to dig in and enjoy the booze.