Some matches are just made in heaven. Like Macaroni and Cheese, Chocolate and Strawberries, Kanye West and his love for Kanye West; you get the drift basically. And then there are some unconventional matches made in heaven, like alcohol and desserts! Here are 5 desserts in Mumbai restaurants that we would gladly convince our broke selves to shed some bucks for:
Bailey's Mousse Cake at Leo's Boulangerie (Lokhandwala): An outlet as small as our liking for Donald Trump, this place can be an easy miss in the over crowded by-lanes of Lokhandwala market. Tucked in this Boulangerie (which is french for bakery) is a drool-worthy mousse cake. Creamy and delicious, this baby is something else. It is infused with *drumroll* BAILEY'S! It's caged in chocolate, waiting for us to free it and consume the airy, light and chocolatey boozy goodness. Death by Bailey's is priced at 100/- per slice. Let's dig in, shall we?
Whiskey Pate at Indigo Deli (Colaba, Lower Parel and Bandra): Whiskey Pate at Indigo deli is an indulgence that will pull you with its sultry dark chocolate exterior, only to discover the gargantuan amount of mousse that sits atop an almond brittle. Your classic lint falls weak in front of this dessert. Indigo Deli is well known for its savory dishes but their desserts stand out bold, proud, and as heavy on the pocket as my weight.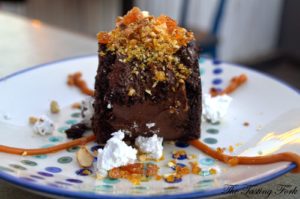 Old Monk Choco Cake at Monkey Bar (Bandra): This might be the booziest a chocolate cake can ever get. Personally not being a big fan of Old Monk, I never voluntarily order it, but then desserts, bro! It was well worth it, considering how dense and light the choco cake is, with caramel bits and nuts sitting atop accompanied with a scoop of good ol' vanilla ice cream. Imagine sitting by a fireplace and running your spoon smoothly through the cake. Priced at 200 bucks, this is one rich gratification you can't resist.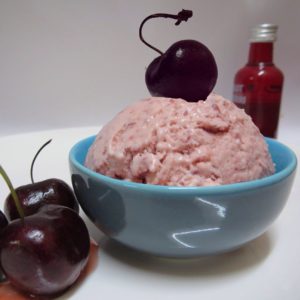 Booze Ice Creams at Drunken Cream (Mahim): Drunken Creams brings you the best of two worlds with their boozy ice creams. This heavenly goodness is hand churned with liqueur infused in your favourite ice creams. They have crazy flavours like Chocolate whisky, Oreo beer, Chocolate with Crème de Menthe and Orange Grand Marnier. Icing on the cake? Drunken Cream ice creams are available for home delivery for all you lazy asses and is also authentically prepared. What else do you need!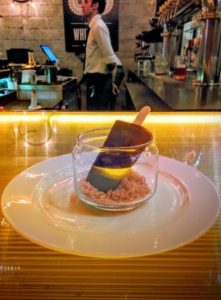 Beer Popsicles at The White Owl Brewery (Lower Parel): Famous for their craft beers, White Owl is the bomb! Chilled beer on a hot day is a treat but frozen beer is absolute indulgence. Prepared with beer, this frozen lolly is served in a wide mouthed jar on a bed of buttered cookie crumbs. How impressive and cute is that! Heavy on the pocket and could also possibly give you a brain freeze but who cares, nothing beats getting lost in a beer lolly and then eating off that delicious cookie crumb at the bottom. Now hand over Rs 195 and 'Jee Le Apni Zindagi."