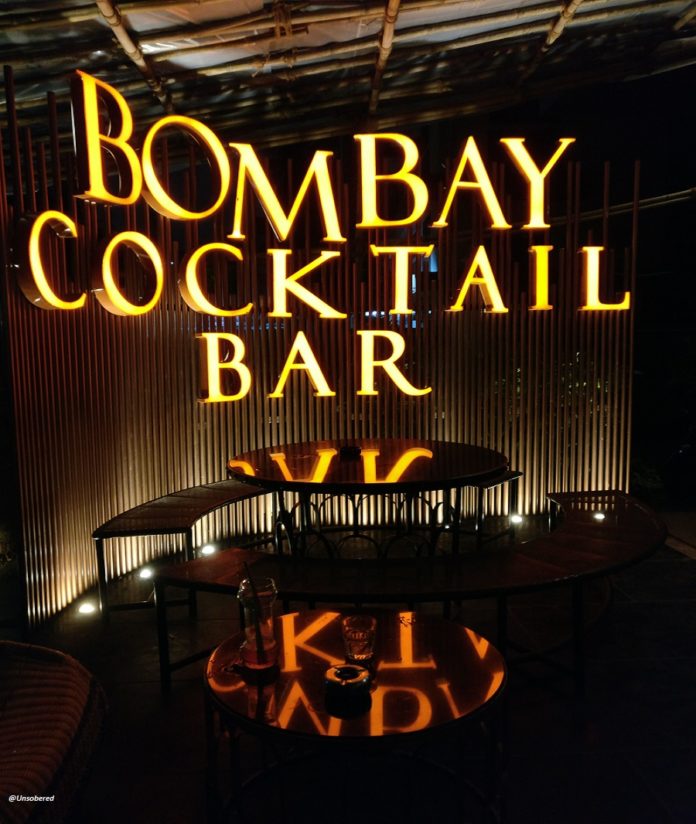 Want a taste of the good life right here in the 'burbs? Head to Bombay Cocktail Bar, you won't be sorry. Read on…
Bombay is a city where a lot of things co-exist in something that resembles harmony. Case in point is this lane in Andheri West that has everything from a local dive and a preppy pub, to a legit exclusive club. So, no matter what your plans for the night are, you'll all find something to do IN THE SAME LANE. Bombay, you never cease to impress.
Another Bombay thing that impressed me was Bombay Cocktail Bar. Andheri hardly has places that you need to 'dress up' for. But Bombay Cocktail Bar, where I was at last Thursday, definitely likes its patrons well turned out. Hell, I doubt they'd let you in if you didn't show up in the season's latest.
Walking in, BCB can only be described as exclusive. All gilded doors and mirrors, the entrance puts you in a good mood. Inside, the place is lit like a nightclub minus the harsh glare. The seating is like a large, spacious pub with the DJ's table and a percussion set bang in the center of everything. Though it's quite dark, it all seems planned and well put-together.
BCB stands apart with its menu as well. Their signature drinks have names like Saveur, Czarine, Coquito etc. Perhaps I'm late to the party, but I've never heard of those drinks before. This meant I had to ask the server exactly what went in every drink before I could pick one. The server was as earnest as they come, but unfortunately, the poor chap was not very well-informed.
In the end, we ordered a Nomayo (INR 405) and a Drunken Monkey (INR 441) for drinks; and the Hunan Chicken (INR 360), Prawn Tempura Rolls (INR 333) and French Fries to eat.
The place was lacking people, and had more servers than patrons when we walked in. But soon enough, BCB was crawling with what can only be described as new age royalty. Models (male and female) that all seemed to know each other, made up most of the crowd.
Perhaps my interrogation unnerved him, but our server forgot to mention vital ingredients of our drinks. The Nomayo had a massive orange rind in it, while the Drunken Monkey had coconut. We scooped out the orange, but the Monkey had to go. Surprisingly, the server took it away without question and even suggested few other drinks. I played safe and called for an LIIT (INR 594). Truth be told, I was pleased that a server could make that call and a manager didn't have to be involved.
Thereafter, the night was swell. The drinks were on point – the LIIT was potent AF, and the Nomayo was a whisky based number that reminded me of a White Russian. The food came in good quantity, and I recommend BCB if you're looking for Japanese food that's not priced exorbitantly.
The DJ restored my faith in DJs as he played one dance track after another. The percussionist accompanying him made sure that everyone was on the dance floor.
Apart from adding descriptions to their menu, there's nothing BCB needs to change. Oh yes, it's open till 3 AM on weekends.
Ta.
Cuisine: Multi cuisine
Food you must try: Fries, Hunan Chicken
Cocktails you must try: Namayo and other house specials, LIIT
Kind of music played here: Commercial
Is there a dance floor? Yes
Avg price per head: INR 1300 approx