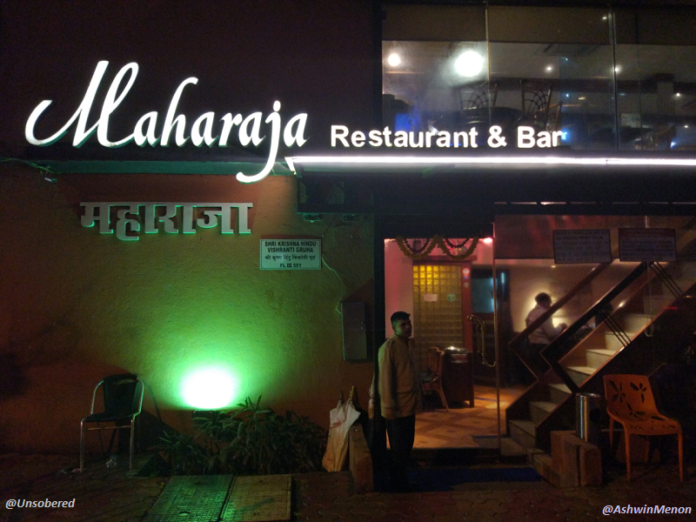 Andheri East receives way more flak than it deserves. And when it comes to drinking places and nightlife, I personally think it's extremely underrated. Yes, it's not the first place in Mumbai that comes to your mind when you say 'nightlife', but people who've spent enough time drinking in this part of the city would know that Andheri East has a lovely mix of drinking places for every kind of budget, every kind of social circle, and well, almost every need. Maharaja Restaurant & Bar was just the kind of place I needed to go to, on a mid-week and mid-month evening.
Now, I've noticed this place way too many times in the past while passing by it. It's got a giant ass name board that you can't miss, and it's tucked in a dark corner under the very accessible Western Express Highway metro station. My impression of this place from the get-go was always 'just another cheap shady bar' that I would visit at some point or the other. I was on my way to another place when I intuitively decided to finally check out Maharaja Restaurant & Bar. "Just get it out of the way", I told myself.
While approaching its entrance with my two-wheeler, that familiar trouble called 'parking' came to bite me in the ass again. Before I began to ask the guard as to where I can park, this other guard comes to me from behind wearing a big smile with "I've got you covered" written all over his face. I took a moment to digest the fact that a dude just approached me (who was on a two-wheeler) for valet, another personal first-time experience.
A little incident changed my perception about this Maharaja. Knowing exactly the kind of place I was going to, quickly changed to a situation where I had absolutely no clue what to expect. Although, Maharaja had already won me over with its little gesture.
When I finally entered, this instantly looked more like a family restaurant, and less of a drinking joint; primarily because of the typical table-chair arrangement you would come across at any family restaurant. But it didn't take me too long to realise that the people who were occupying majority of the tables at that point in time were there to drink.
I didn't need loud noise, I needed some loud energy. The energetic vibe, the busy chatter, and of course the very identifiable beer bottles on almost every other table told me that I had landed at just the right place. There were a couple of television screens playing a live cricket match, and there was an EDM-esque playlist faintly unfolding in the backdrop as well.
I could almost predict the prices of the food and the alcohol. Not too cheap, and certainly not too expensive. The kind that doesn't make you feel the pinch. And I was right! I called for a 'Sex on the Beach' (INR 270) and a 'Chicken Pahaadi Tikka' (INR 200). It was probably the best sex I've ever had on the beach because the proportion of vodka was perfect to give my tired self that much needed buzz, and the orange juice complemented it brilliantly. The Chicken Pahaadi Tikka played the ideal companion to the drink.
The place was dominated by office folk, mostly men; but there were also women who came with their families. They have made these lovely private spaces in the corners for large groups of 8-10 to come and have their own little party. It just genuinely seemed like everybody was having a great time, while the friendly waiters were constantly on their toes.
At the end of the day, you just want that god damn drink and some decent food. But every now and then comes a place that reinforces the importance of uplifting your drinking experience, and Maharaja (whilst not being a typical bar with a dance floor) does just that. So much happiness happened!
Where? Bajsons Industrial Estate, Andheri East, Chakala, Mumbai
Cuisine: Chinese, Indian, Mangalorean
Food you must try: Chicken Pahaadi Tikka, Chicken Pepper Fry
Cocktails you must try: Sex on the Beach
Avg price per head: INR 600 approx