Last Friday was about traveling back in time. Razzberry Rhinoceros, an early 90's pub that was considered the go-to place for indie punk and metal revelers, has returned after it was shuttered in 2005.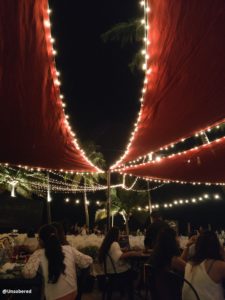 So close to the beach, it goes without saying that sunset is the best time to visit 'Razz', as it was lovingly known back in the day. My friends and I chose to sit outdoors despite the heat for two reasons – first, the outdoor section was that charming and second, the indoor section was that hideous! They seem to have taken the name to heart because the inside was lit in magenta hued lights.
Well, I guess not completely to heart since there was no rampant rhino there. Nevertheless, here was a welcome change from the other cramped and noisy places that are springing up at every corner of the suburbs.
As we settled down, we realized we couldn't, really. The seats were some of the most uncomfortable seating apparatus that I've ever laid my… well, my you-know-what on. But since we'd already sneered down our servers offer to seat us indoors, all we could do was fidget and enviously eye the couches inside.
For the longest time, we weren't given a menu. A lot of waving and eye-catching attempts later, our server handed us the menus and took off once again. As I wondered what oh-so-important task he had other than his own job, my friend looked up from his menu with a blank expression. This was because Razz has one of the random-est of menus. First off, there were two menus each for food and drink owing to the fact that the entire place was actually divided into more than one section. Secondly, the food menu was exotic sounding but so confusing that none of it read appetizing. None!
In the end, we called for two house cocktails – Musk Melon and Lychee with a Vodka base, and Green Apple and Basil with a Gin base (INR 600 apiece); and the Chicken Nukhti Kebab (INR 465) and Minced Vegetable Tikkis served with their special UTP (Ulta Tava Paratha) (INR 315), upon the server's suggestion.
For the prices they were asking, the food and booze definitely lived up to our expectations. The vegetable tikkis were buttery soft and hit the right note with the accompanying paratha and chutney. Not really being a kebab person (I had to order them, nothing else made sense on the menu!) I was pleasantly surprised by the subtle flavors and inviting texture of the kebabs. However, they were supposed to be prepared in some Korean spice but what I was served was Indian through and through. Lost in translation?
Well, the drinks worked their magic and the fairy lights, coupled with the sea-breeze, transported us; this time, not to the 90's but to Goa. There's a very definitive Thalassa vibe at Razz (bye-bye, punk rock). Maybe it's the whites and the lights; maybe it's the well-dressed patrons. Speaking of which, be ready to share the space with young 'uns and their folks alike. What can I say? They were here first.
Razzberry Rhinoceros looks like it took a page out of Thalassa Goa's success story; but we aren't complaining. Despite the confusing, overpriced menu and the slow staff, Razz is sure to rustle up a loyal clientele among the 'Upper Juhu' crowd that's just waiting to don their sundresses and head to yet another sundowner, and their parents, who are sure to hit the whisky lounge and regale the good old days. The rest of you must definitely hit the place at least once, even if it's on pay-day. Toodles!
Side note: The menu on Zomato is completely different from what we were handed and it's absolutely misleading. If that was the menu we really would have gotten, this would have been a different story altogether.
Where? Uditi Tarang Housing Colony, Juhu Tara, Juhu
Cuisine: Multi cuisine
Food you must try: Chicken Nukhti Kebab
Cocktails you must try: Musk Melon and Lychee with a Vodka base. (House specials)
Kind of music played here: World music that later transformed to commercial
Is there a dance floor? Enough space to dance
Avg price per head: INR 1500 approx
Header Image Credit: Zomato