This is the first time we've entered a cheap bar named after a woman. At the risk of sounding like pseudo feminists or even sexists for that matter, we found it really cool and unique that the place is named 'Surabhi Bar & Restaurant', since most cheap bars in Mumbai bear very 90's male names like Vijay, Sagar, Adarsh and the likes. We reached 'Surabhi' at a very defining hour of the day when it comes to cheap bars; it was 11:30 pm on a Tuesday evening and the place was packed to the rafters. Sigh!
Enter Surabhi and you realise that the uniqueness of this place was confined only to its name and nothing beyond that. It was an exciting new story that was waiting to fizzle out, because it doesn't take you time to realise that it's like any of the bars we mentioned above, in fact, worse (or better, depending on your mood)
There's a clear demarcation between the AC and Non-AC space, and they've very smartly kept the AC door open to serve as a heads-up as to what to expect inside. The smoke overpowered our visuals, but it seemed like a shady dungeon filled with explicitly intoxicated people (intoxicated in more ways than one). We decided against entering that section only so that we can "see" things and bring this piece to you.
This was one of the more cramped cheap bars we've been too, which means that bad breath is on your face, and cuss words become background music. With two gigantic mirrors that are completely unavoidable, they gave us a reflection of where we really were at that point in time, almost like a reality check. It is at this point that we wanted to do our shit in there and fuck off as quickly as we could.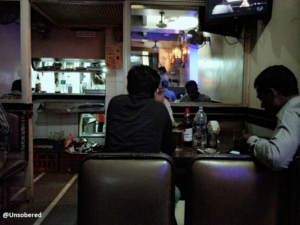 Surabhi is quite unabashed and open about her kitchen, a sight that you rarely get to see in any bar or restaurant, not just dirty and cheap ones for that matter. With literally a see-through kitchen that looked like an abandoned warehouse with stained walls, we saw bare chested individuals walk around the space like it was their home. This is the place where they make the stuff that goes into our tummies. Appetizing much?
Right then, it was menu card time, which basically meant that it was time for the cheap thrills. The cover of the menu card goes like this – "180ml Imperial Blue Ab Sirf Rs 190 Mein, Ek Toh Banta Hai…" Whoever said that cheap bars don't have deals and offers on their already cheap booze! This one seemed like a permanent offer though, since it was inscribed on the menu. As tempting as the offer was, Mumbai's heat called for a beer; also, the safest option in a place like this. We began rolling with 130 bucks for 330ml of a Kingfisher Strong can.
The food in cheap bars is like watching B-grade porn. You hardly ever choose to go with it, but when you do, you enjoy it like it's the best porn you've ever watched. Now when you're in a place like this, your expectations steep so low that you get impressed by the littlest of things. We were super impressed by the presentation of their Chicken Tikka and Paneer Tikka, both costing a meager 170 bucks. The taste was surely not like the best porn we've ever watched, but we had already been bowled over by the look of the plates, that the cheap thrills kept on rolling. Also, free chakna.
It would be a cardinal sin if you spent more than Rs 500 in a place like this. If you do, you either end up very very drunk at the end of the night, or you didn't give a fuck about the paan stained kitchen and went on ordering the food (Indian, Chinese, Mughlai), all of which eventually adds up when you are handed over your bill.
At the end of the day, Surabhi did leave an impression, but we're not quite sure if it was good or bad. If we ever end up here again, it would probably be equivalent to Donald Trump coming back to power after his first term as president. You never know, funny things happen and this might too. But yes, if we are back here someday, we will go a step ahead and try their (quoting Surabhi's menu card here) "Mangaloorian Specialties" and "Indian Mutton Chicken" sections…
Where? Near Andheri Subway, Nagardas Cross Road, Andheri East
Food you must try: Chicken Tikka, Chicken Reshmi Kebab, Paneer Tikka. Let us know if you end up trying their supposedly Mangalorian dishes.
Alcohol you must try: Pretty much anything you want
Price: Rs 450 per head