There are some bars and restaurants that are literally an open book, and you can read them accurately by just standing outside and staring at their name boards. Vijay Punjab Bar & Restaurant, situated bang under a bustling Andheri Metro station, is an open book without a cover. Now, our wallets maybe empty sometimes, but the same can never be said about our desire to drink and eat. It was that kind of day really, and cheap drinking harmed nobody once in a while.
Nothing victorious, and nothing Punjabi about this hole
We've never quite understood why a waiter in a cheap bar has to take a moment to scan you from top to bottom, before leading you to your seat. It's like they possess a power to make a quick impression about you, on the basis of which they will serve you for the rest of the time that you spend in there. We weren't spared from the scan, and from the kind of service we received (both from the waiter and the sounds of Andheri East traffic), I don't think we met our fellow's criterion.
A quick survey of the place made us realize that not one table was unoccupied. Before you jump to conclusions about the popularity of this hole, let us tell you that every table had just one drunk soul each. Yes, eight tables for eight loners, sulking about their lives and drowning in alcohol like there was no tomorrow. Given the lack of an empty table, we decided to share a large table with an uncle who was happy to let us in on his frustrated life.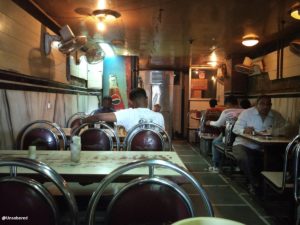 Now, with prices like Rs. 160 for an Old Monk quarter, Rs. 180 for a Signature quarter, and Rs. 80 for a large peg of Imperial Blue, you know you've struck absolute gold with peanuts in your pocket. Speaking of peanuts, we were lucky enough to get served a fresh and crisp packet of 'chakna' to go with our poison, twice.
Their Chicken Lollypop looked mean as hell and was soaked in oil, reminiscent of an average Mumbaikar perspiring in the heat of the city's summer. But when you've already dived in the pit, there's no point climbing back up. We'll take 150 bucks for junk food like that with our eyes closed on a day like this. Also, if you're a Mutton fan, Vijay Punjab appears to be your place for 'Sasta Gosht'. A separate section on the menu card dedicated to Mutton (Rs 180 on an average), looked bigger than their Chicken section.
This is just the kind of place where people don't give a fuck about any rules; the kind of place where you will see an uncle smoke the shit out of his lungs sitting on a table right under a 'No Smoking' signboard. Could totally imagine him in one of those 'Thug Life' videos that keep popping up on our social media timelines.
Speaking of signboards with rules, this place had too many, and one particular sign caught our attention. 'DO NOT COMB' it said, and it gave us food for thought, but not before cracking us up. Why wouldn't they want you to comb? (Assuming it's hair they're talking about). Do they just assume that all their customers have lice in their hair? It is at this point that we realized we're giving Vijay Punjab way too much thought, much more than it deserves.
Cheap bars possess this inherent quality to entertain you through their menu cards. The chances of reading misspelt liquor can never be ruled out, but Vijay Punjab appeared to prove us wrong until it finally stumbled just before we closed their menu card for good. We wonder what 'BLENDER SPRITE' tastes like, but we will leave that for another day, if we ever come back that is.
Cuisine: Indian, Chinese, Mughlai
Food you must try: Chicken Tikka, Chicken Lollypop, Mutton dishes
Alcohol you must try: Depends on your mood; anything on the day
Price: Rs 350 per head