Consider the plight of traveling from one part of Mumbai to another for a restaurant that looks classy and fancy, laced with sophistication in its decor. Boy how wrong was I. Let me tell you a tale. Read carefully and don't peel your eyes of the screen.
Living up to its name, nothing but a Tamasha
Once upon a time, lived a girl in a village, who traveled far to revel in the joys that a certain part of town offered. It took everything in her to get her ass off the comfortable bed and travel. After commuting for what felt like forever, she reached a place called Tamasha.
The ushers stood outside, all prim and proper. With hope in her eyes, she asked if she could perhaps be granted access. The lady in the black coat, with her hair tied neatly in a bun, looked at her from up to down and said that they are full; however could offer a seat where the drunk peeps stood. Grabbing what she was being offered, the girl entered the place that was half empty and frowned as to how lavish the place, and how bare her wallet was.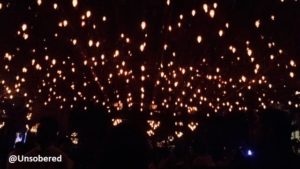 The dim yet bright lights illuminated the place like fire flies in the dark. On finally finding a seat, she took the liberty to order food and drinks. From an exorbitant selection of alcohol, she stuck with the cheapest option available, despite her distaste for it; a pint of bottled beer of Heineken, paying triple its true amount. Pairing it with a savory dish called 'Beijing Chicken' which consisted of juicy pieces of chicken tossed in sauces on a heart shaped plate turned out to be a good choice. The chicken sure made up for the disappointment of sipping on the loathing beer.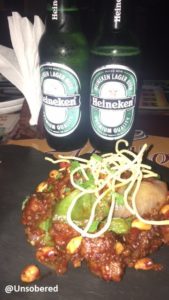 It was then time to call for her true love. Sipping on god's gift that is white wine, she scanned the crowd. Seated next to her table were couples busy indulging in public displays of affection, dancing dangerously close to each other on the non-existent dance floor. The highs and lows in the quality of music being played contributed to the night going downhill. Even the Chettinand Chicken with lemon rice that sat on her table had more of curry leaves than the rice itself. Alas!
It wasn't until half an hour more of trying to solve the puzzle as to why this place was over-appreciated, she decided it was time to leave this sad little zone and pay for her hors d'oeuvres. What happened next baffled her as 1/3rd of the amount was merely the charges she had to pay for dining as tariff, exclusive of the amount of the actual bloody meal.
What's the moral of the story? Don't let pretty lights blind you into believing an appealing place could actually end up enchanting you.
Where? Victoria House, E.B Marg, Lower Parel, Mumbai
Cuisine: Continental and finger food at its average
Food you must try: Jack Daniels Butter Chicken, Chicken Tikka, Mushroom Risotto, Paneer Tikka
Cocktails you must try: Smoked Sangria, Mona Darling
Kind of music played here: Pop music with a slight bit of EDM. They do have DJ's playing over the weekends occasionally.
Is there a dance floor?: Almost close to non-existent, however the place is spacious.
Avg price per head: Rs 1600
Header Image Credit: Zomato