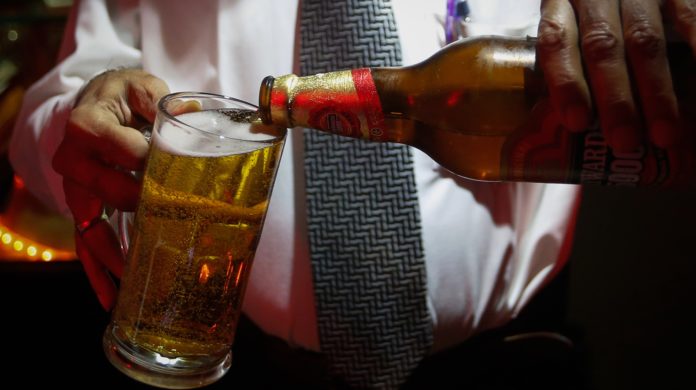 "Where do we get cheap booze?"
That's the question that every drinker asks themselves? It doesn't need to be the end of the month or any sort of cash crunch. After all, you get to drink more by spending less.
Like always, we're here to help you. Here's something that you should absolutely note down or bookmark on your browser. After all, these are five bars for drinking on a budget in Mumbai :
1. Bottles, Versova
When it comes to an extremely basic and less fancy place in Versova, Bottles is the place to be. At a walking distance from the metro station, not only is this watering hole convenient, but it's got some super cheap booze and food. Standard wooden benches and tables make it an absolute hit with the college-going crowd. Beer lovers enjoy the pitchers, while you'd be lucky to get 30 ml rum for Rs. 80 (Old Monk), unlike anywhere else in the area.
2. Cafe Oval, Churchgate
Dating back to 1934, Cafe Oval has been standing tall and is no less than an institution in the area of Churchgate. It's old and it's small, but what the place gives you is a wonderful view of the Oval Maidan. And did we mention the super cheap beer? Draught mug for Rs. 100, Draught jumbo for Rs. 190 and a pitcher for Rs. 380.
While the good news is that you get cheap beer, the bad news is that you don't get any other form of alcohol. But we like our beer, don't we? And boy do we like it cheap.

And here's some trivia about the place for you – Cafe Oval sports a distinct spiral staircase and a sign nailed that states 'we serve to all castes'. So don't forget to check them out.
3. Cafe General and Stores, Girgaum Chowpatty
Close your eyes and imagine this. Chilled beer in your hand, the view of the Arabian sea and some foot tapping music to make you sing along. Sounds too good to be true right? Well, stop imagining and head straight to Cafe General and Stores in Girgaum Chowpatty.
The place has been around since World War 1 and has a modern jukebox with music ranging from Metallica to the Vengaboys and even Kishore Kumar. It doesn't get any better than this.
To put things into perspective, a 30 ml Old Monk would cost just Rs. 60. The same goes for Romanov and White Mischief when it comes to vodka.

4. Asiad, Vile Parle
If you ask us, it's not just ALFA that's the most famous place in the Irla lane, it's Asiad bar. Ask any student from Mithibai, NM, DJ Sanghvi where to get a reasonably priced drink, and you will be pointed towards Asiad. What makes this bar an absolute hit? Their quarter system, which makes eating and drinking cheap and cheerful and that's not even the best part about the place. We asked a few students and they told us the place rewards loyalty with 'special' discounts.
5. Gopal Krishna Restaurant and Bar, Dadar
Step out of Dadar railway station and walk right into this place. Yes, it's that close. It's not your regular classy place, but when it comes to cheap booze, you can't ask for more. The biggest bonus here is that the place is open until the wee hours of the night. So much so that you can go here after another bar shuts.
Don't worry about the ambience and the service at these bars. If it's cheap booze that you crave, you now know where to go. So head out and drink like there's no tomorrow.