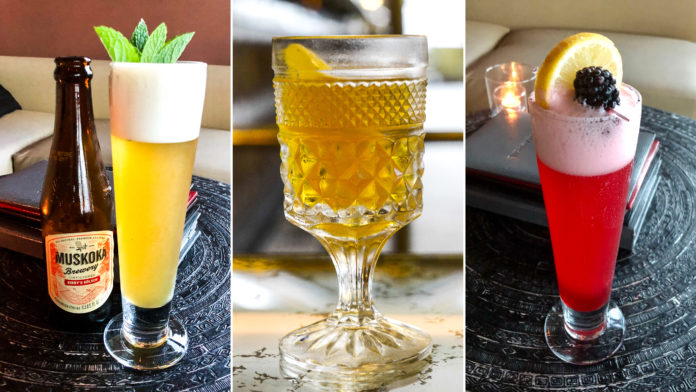 When it comes to cocktails, one can always stick with the tried-and-tested ones like the Mojito, Bloody Mary, Margarita, Daiquiri etc. But where is the fun without some experimentation?
Beer is always there to lift our moods up and when mixed with a few things, what you get is one amazing beer cocktail. Yes, you heard us right. Beer cocktails are a thing and we've shortlisted seven of them that you must try out in Aamchi Mumbai.
1. Beer Margarita – Brewbot
Every beer lover in the city has this place marked down in the list of breweries to visit. If it isn't their craft beer that will blow you away, their cocktails are an absolute steal. The Beer Margarita is one that we can absolutely vouch for. Get a twist of tequila, fresh lime, craft beer, simple syrup and triple sec in this brilliant concoction.
While we've chosen our favourite, do try this other beer cocktail called Lager Passion -a perfect mix of vodka, passion fruit, peach puree and craft beer.
Price: Rs. 595 for the Beer Margarita and Rs. 545 for the Lager Passion.
2. Beergita – Kaitlyn's Beer Garden
Don't be put off by the odd sound of this beer cocktail. This mixture of beer, vodka, strawberry crush, kiwi crush and peach sounds just too good to be true. And don't worry, the taste is just as awesome.
Price: Rs. 425 for the Beergita.
3. The Inverted Bird – The Irish House
If you want to go beyond the classic cocktails, then the beer cocktails at Irish House are a must. The Inverted Bird, which has vodka, apple juice, passion fruit extract and an inverted pint of beer, is quite strong to say the very least.
While this is the highlight of the beer cocktail menu, other options include a Classic Shandy (draught lager and sparkling fresh lime) and Black Wave (draught lager and espresso).
Price: Rs. 495 for The Inverted Bird, Rs. 325 for the Classic Shandy and Rs. 325 for the Black Wave.

4. White Rhino Bongtail – Raasta
Be it the community or the smoking device, we do love our bongs. The latest addition to the list is one hell of a cocktail called the White Rhino Bongtail. It includes vodka, white rum, gin, tequila, whiskey and peach syrup, topped with beer.
Price: Rs. 450 for the White Rhino Bongtail.
5. Power Beer – Light House Cafe
With four variants of beer cocktails on the menu, this cafe in Worli happens to be a perfect boozing joint. They serve a power-packed cocktail in the form of Power Beer, literally. Infused with some good old Jäger, Old Monk, power mixer and orange juice, we want you to make sure you will be able to handle all the extra power.
The other beer cocktails to try out here are Rhythm, AK Special and the Herbed Beer.
Price: Rs. 450 for the Power Beer, Rs. 285 for the Rhythm, Rs. 325 for the AK Special and Rs. 285 for the Herbed Beer.
6. Kala Khatta Beer – Bombay Cocktail Bar
Kala Khatta arguably is the most popular flavour when it comes to the gola. Mix that with beer and what one gets is one wacky cocktail. This one consists of vodka, the secret ingredient that is kala khatta syrup, cumin spiced syrup, rose gomme and top lip with KF (premium). With cocktails like this, the place surely lives up to its name.
And that's not the only beer cocktail they got. Do try out their Mexican Wheat and Mid Night Moon.

7. Deconstructed Moscow Mule – Versova Social
The chain of Socials are no less than a watering hole in Mumbai. If you were wondering if this hip-and-happening place has got any beer cocktails on its plate, then you won't be disappointed with the Deconstructed Moscow Mule.
You'll get it in two types, the first being with vodka and ginger ale, and the second one being with vodka, Ketel One vodka and ginger ale.
Price: Rs. 295 for the Deconstructed Moscow Mule and Rs. 475 for the Ketel ones without taxes.